Siena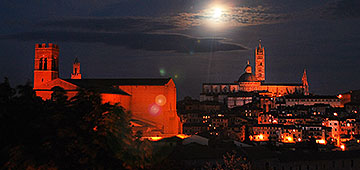 Siena, located in the heart of Tuscany
Siena is one of the most artistic of Italy, with important and famous monuments, palaces and squares, including Piazza del Campo, one of the most beautiful medieval squares in Italy. Located at 322 mt. above sea level in the heart of Tuscany, this town is built on three hills, maintaining intact its medieval appearance characterized by narrow winding streets and noble buildings in history. The origin is Etruscan and was a Roman colony with the name of Julia Saena; its greatest importance grew in the Middle Ages, first as the Lombards and then passed under the Carolingian domination. After a long period of episcopal dominion (9th to 'the 11th century), the city reached its peak of power after becoming a municipality (1147), by adopting a policy of expansion towards the bordering territories. Confrontation with Florence was inevitable and the struggle lasted, with various vicissitudes, until 1555, when after a long siege, Siena was conquered by the Florentines, losing its autonomy and becoming part of the Duchy, sharing its fortunes until ' Unification of Italy (1861).
Palio di Siena
The Palio of is one of the most famous, beautiful and deeply felt among the Italian public events.
The Palio of Siena sum and maximizes the potential characteristics of a party with religious and civil, a fascinating spectacle, a revival of historical cultural and culminates in a wild horse race in which we make and enhance the pride and the 'ardent spirit of competition of the Contrade. These are unique institutions whose origin dates back to centuries. XV, which are currently the seventeen districts of the city according to the territorial boundaries established by a notice issued January 7, 1730 by Governor of Siena Violante of Bavaria. Each of them has its own seat, its own church (distinct and independent from the parish), a museum with Palios won, numerous ancient relics and modern, and is governed by a "Seat" (Council) of popular election chaired by a Prior and supported by a Captain who assumes full authority over the conduct of the race. The contrade, located in three neighborhoods of the city, are distinguished by their emblems and their colors. The Palio is over 2 times to 'year on July 2 "Palio in honor of the Madonna of Provenzano" and on August 16 "Palio of the' Assunta". The phases of the Palio begin four days before, with the "is" selection of ten horses are considered suitable for race prizes and 'assignment to draw at ten districts participants, follow the six tests that are run in the morning and evening.